Katrin Schroeter
Associate Professor of German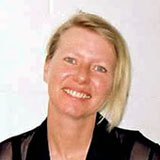 Email:  kaddisch@gmail.com

 

Office:  347C

Hours:  M 1:15 - 2:15, T 11:30 - 12:30, Th 12:45 - 1:35
Research Area/s:
German
Biography:
Katrin Schröter holds an interdisciplinary Ph. D. in German Studies and Modern Culture & Media. Her area of specialization is German cinema, and specifically representations of national identity in German films after World War II.
On the graduate level she has taught a variety of courses in German and English, including classes on the literature and culture of the Weimar Republic, the German Democratic Republic, and Germany after unification, as well as seminars on Film Theory and German Cinema.
She currently serves as the Director of Graduate Studies in the Department of FLL, and as undergraduate and graduate advisor for the German program.
Educational History:
1996, Ph.D., in German Studies and Modern Culture & Media, Brown University.
1988, M.A., Brown University.
1985, Staatsexamen, Wilhelm-Pieck-University Rostock - Rostock, German Democratic Republic.
Research Interests:
Her current research explores the correlation between the activation of cinematic genres and constructions of new identity formations after German unification.
Selected Publications:
Her book, Border Crossings: National Identity and Nation Formation in German Films, 1980 – 2000 (2004) focuses on a number of West German films produced between 1980 and 2000 that address issues of national identity by fictionalizing border crossings between the two Germanys.
Representative Courses:
COMP 580 (GRMN 556 | MLNG 580) - German Cinema: How German Can It Be?
GRMN 553 - Die Goldenen Zwanziger? - Die Kultur und Literatur der Weimarer Republik
GRMN 553 - Die Möglichkeit zu trauern – Kultur und Literatur der DDR
GRMN 553 - Die Deutschen nach der Wende – Kultur und Literatur der Berliner Republik
Other Information:
Director

, German Summer School in Taos (2004).
Sabbatical in Germany (2004-2005).