German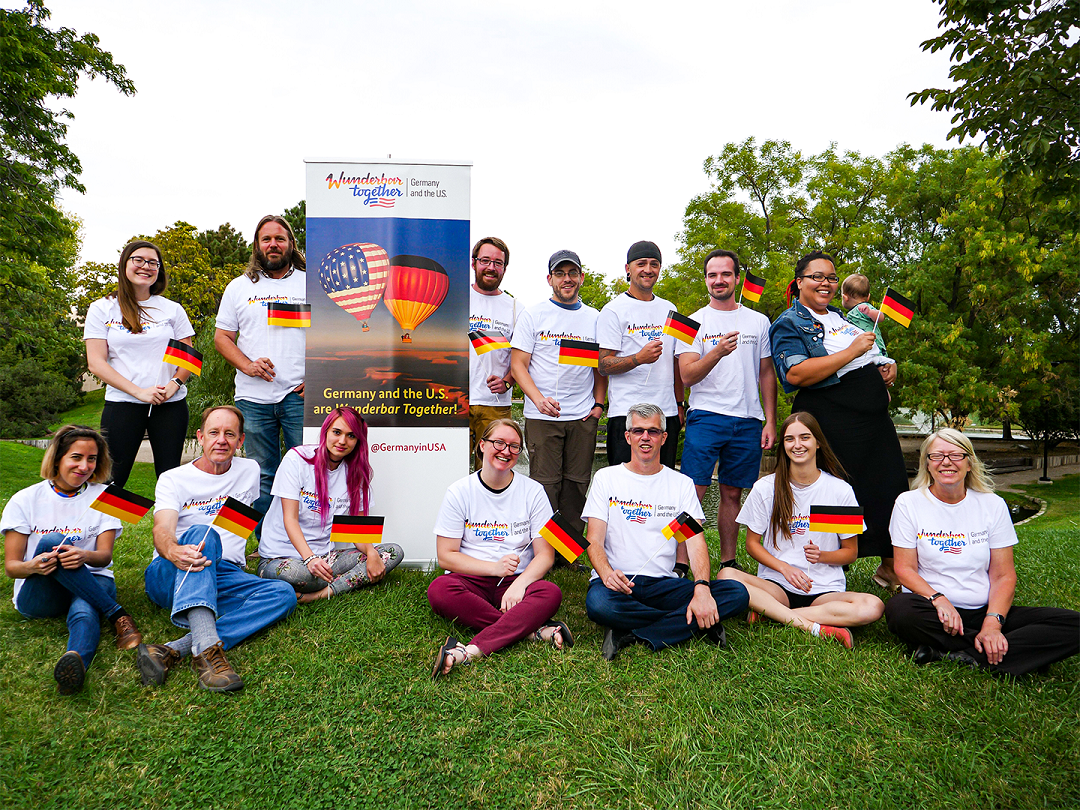 The German department gathered to celebrate German campus weeks with Wunderbar Together
Starting with Basic German that assumes no prior knowledge of the language, we offer undergraduate courses all the way to upper-division courses that focus on advanced topics in German literature, film, and culture. Students who graduate from the German program at UNM will learn:
to express themselves fluently and confidently in the German language,
to successfully navigate the cultural environments of German-speaking countries, and
to become perceptive readers, listeners, and viewers of German texts, films, and other media.
M.A. in German Studies
The graduate curriculum in German Studies offers historical breadth as well as particular depth in areas that correspond to the research interests of our faculty. We offer courses focusing on the aesthetic, philosophical and literary landscape of the enlightenment, romanticism, and realism, as well as seminars that trace major theoretical and cultural trends of the 20th century up to the present. Core courses offered on a regular basis are centered on important writers, aesthetic concepts, and cultural currents from the 18th through the 21st centuries, including critical theory, film studies, and gender studies. Special-topics courses offered in recent years have focused on such diverse themes as terrorism, fairy tales, and memory culture in literature and critical thought. Graduate courses are taught either in German or in English.
Graduate students in German Studies at UNM also receive thorough training in the teaching of German as a second language, including pedagogical theory and practical classroom experience. Students are encouraged to expand their academic expertise and gain linguistic proficiency by taking advantage of our academic exchange programs at partner universities in Bonn, Graz (Austria), Halle, Heidelberg, and Würzburg. Our program also offers a wealth of extra-curricular activities, such as a weekly "Sprechtisch," poetry evenings, and film screenings, which provide additional opportunities to practice German and network with other interested students.
Graduate Advisor - Katrin Schroeter
In addition to our on-campus course offerings, every summer German students also have the unique opportunity of earning credit by enrolling for the German Summer School, an intensive 4 ½-week immersion program conducted in Kingston, NM. The intensive nature of this program, including interaction with visiting scholars and teachers from across the U.S., Germany, Austria, and Switzerland, often enables students to advance an entire level in the course of one full session. Scholarships are available.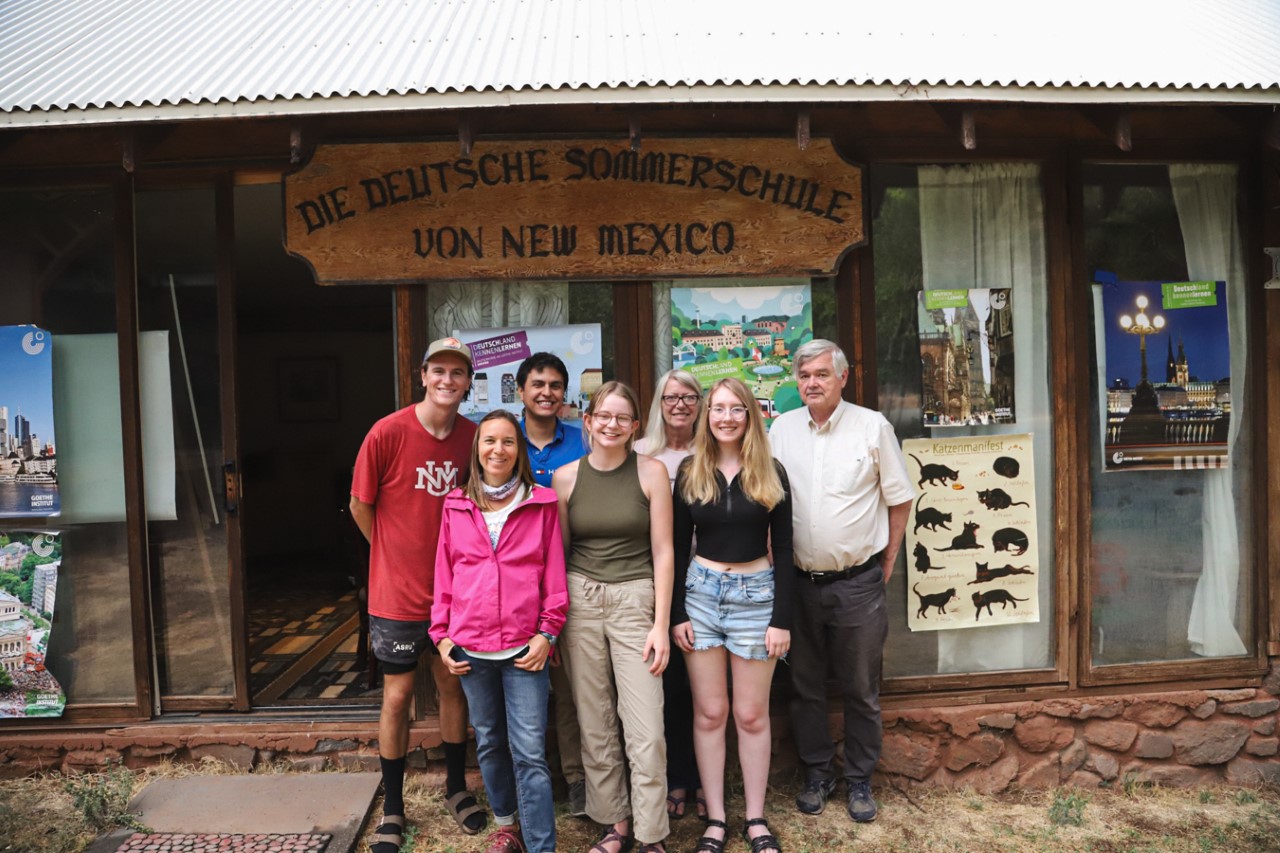 Die Deutsche Sommerschule 2022 - Zeitungsworkshop Teilnehmerinnen
For more information regarding GSS 2023 please see the flyer or contact the German Summer School Office at schule@unm.edu.
Undergraduate Advisor - Susanne Baackmann
Check out the University Catalog for German!
German Placement Evaluations
All students enrolling in German 1110, 1120, 2110, and 2120 (formerly listed as 101, 102, 201, and 202 respectively) who have not already taken German courses at UNM are required to take an online placement test.
Note: Your exam results must be turned in to your instructor during the first week of class.
Students must email at dgalle03@unm.edu to receive an anonymous log-in ID and password for the placement test. The student can use any computer that has headphones (or speakers, for your home computer) and QuickTime or Real Audio plug-ins.
Log on to: http://placement-test.mmlc.northwestern.edu/external/unm/
The portal contains links to 3 resources:
Accent sheets

 (for typing accented characters),

Take A Placement Test

 (start taking the test here), and

Placement Results

 (test result).
Taking The German Test
Click 

"Take a Placement Test"

.
Click 

"Log-in to the Tests"

. This will open a new browser window without navigation buttons. (

Caution:

 Using browser navigation buttons at any time during the test will cause your answers to be saved incorrectly!)
Log in with your anonymous log-in ID and password.
Click the radio button next to 

"UNM German Test"

 and then click the button 

"Start test"

.
Make sure you understand the user agreement, then click the button 

"I accept"

.
Read the 

"instructions"

 page carefully, then begin the test.
When you have completed all sections (1-8), be sure to click the button

"Commit Answers/Finish Test"

 so your answers can be evaluated.
Log back in to http://placement-test.mmlc.northwestern.edu/external/unm/  with your log-in ID and password.
Click on the button 

"Placement Results"

. You will see the percentage you scored. Print out this page. Write your name in the top right-hand corner.
During the first or second class meeting, provide the print-out to your instructor so he or she can see whether you are enrolled in the appropriate class level.