Hpone Tu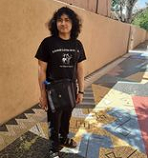 Email: hponemyinttu@unm.edu

Office: 315D

 

Office Hours: Please email hponemyinttu@unm.edu for appt.
Biography:
Hpone is an international student from Yangon, Burma. After getting his BA in English and Classical Languages from the University of the South in Tennessee, he came to UNM to pursue a Master's in Classics. Hpone's current research interests concern the perception of ancient Eastern civilizations in the Greco-Roman imagination. Particularly, he wants to explore how the Ancient Greeks and Romans thought about Asian civilizations through the animal symbolism in their literature. For further study, Hpone is excited to pursue the global literature 
(mainly from English contact with East Asia)
 of the Early Modern period.
Besides these scholarly interests, teaching and cooking are two of his main passions. He is a self-taught cook, but started teaching in different cultures since after high school. Hpone sees the promotion of humanities education as his life's work.