Von Eierschwammerlhohen zur D. H. Lawrence Ranch (German Edition)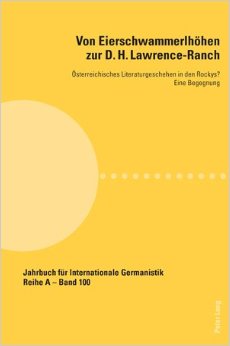 Creative literature, translations into English, French and Spanish, critical and artistic contributions were pinpointed intellectually during a cultural symposium in the Rockies in the summer of 2007. For three weeks, members of the Austrian PEN-Center met American literary and cultural experts for an exchange of thought. Literature and art were to be produced, yet other already existing texts and contents were to be discussed. The event shows how close the continents across the Atlantic have become again in an age of modern communication and transportation technology and, thus, how important the literary treatment of common human cultural problems has become. The experience of this symposium is introduced in this book in diverse and assorted ways.
Available for purchase here.