Screening Love and War in Troy: Fall of a City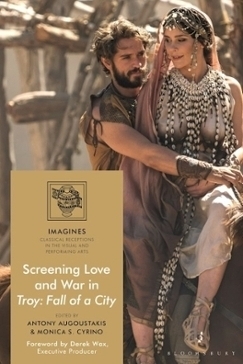 This is the first volume of essays published on the television series 
Troy: Fall of a City
 (BBC One and Netflix, 2018). Covering a wide range of engaging topics, such as gender, race and politics, international scholars in the fields of classics, history and film studies discuss how the story of Troy has been recreated on screen to suit the expectations of modern audiences. The series is commended for the thought-provoking way it handles important issues arising from the Trojan War narrative that continue to impact our society today.
With discussions centered on epic narrative, cast and character, as well as tragic resonances, the contributors tackle gender roles by exploring the innovative ways in which mythological female figures such as Helen, Aphrodite and the Amazons are depicted in the series. An examination is also made into the concept of the hero and how the series challenges conventional representations of masculinity. We encounter a significant investigation of race focusing on the controversial casting of Achilles, Patroclus, Zeus and other series characters with Black actors. Several essays deal with the moral and ethical complexities surrounding warfare, power and politics. The significance of costume and production design are also explored throughout the volume.
Available for purchase here.