Screening Love and Sex in the Ancient World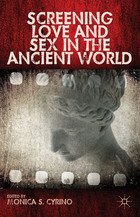 This dynamic collection of original essays by leading international film scholars and classicists addresses the provocative representation of sexuality in the ancient world on screen. Throughout the history of cinema, filmmakers have returned to the history, mythology, and literature of Greek and Roman antiquity as the ideal site for narratives of erotic adventure and displays of sexual excess. A critical reader on the creative approaches used to screen sexuality in classical settings, contributors utilize case studies from films such as Kiss Me Deadly (1955), Angels & Insects (1995), and Alexander (2004) as well as the television series Rome (2005-07) and Spartacus: Blood and Sand (2010). Featuring contributors such as Antony Augoustakis, Alison Futrell, Paula James, and Corinne Pache, the essays in this collection apply a variety of theoretical perspectives to the role of love and sexuality in screening the ancient world.
Available for purchase here.