Metaphors of Invention and Dissension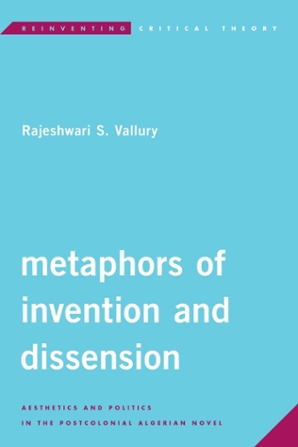 Metaphors of Invention and Dissension studies the relationship between aesthetics and politics in the postcolonial Algerian novel, proposing that postcolonial literature demonstrates a conscious, rational, and deliberate engagement with the question of democracy. Analysing six novels written by two Algerian authors of French expression, Tahar Djaout and Rachid Mimouni, Rajeshwari S. Vallury shows how the metaphors of literature invent an arena or platform for the enactment of democratic dissension.

Vallury suggests that postcolonial texts stage litigious debates about the principles that can and must sustain a life of the common. The capacity of the poetic word to regenerate and recreate forms of thinking, being, saying, and doing lies at the heart of the political power of literature. In the case of Algeria, the dual forces of military rule and radical Islamism have not succeeded in stifling the revolutionary will of the people, which continues to find self-expression in the idea of the nation, the concept of universal human rights, the notion of civility, and the philosophical traditions of pluralism and toleration within Islam. This book argues that postcolonial literature attests to the dissonance of democracy by staging the nation as the space of a universal equality and civility.