Heroines and Local Girls: The Transnational Emergence of Women's Writing in the Long Eighteenth Century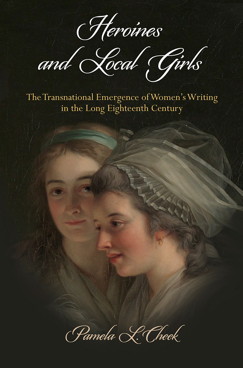 Over the course of the long eighteenth century, a network of some fifty women writers, working in French, English, Dutch, and German, staked out a lasting position in the European literary field. These writers were multilingual and lived for many years outside of their countries of origin, translated and borrowed from each others' works, attended literary circles and salons, and fashioned a transnational women's literature characterized by highly recognizable codes. Drawing on a literary geography of national types, women writers across Western Europe read, translated, wrote, and rewrote stories about exceptional young women, literary heroines who transcend the gendered destiny of their distinctive cultural and national contexts. These transcultural heroines struggle against the cultural constraints determining the sexualized fates of local girls.
In Heroines and Local Girls, Pamela L. Cheek explores the rise of women's writing as a distinct, transnational category in Britain and Europe between 1650 and 1810. Starting with an account of a remarkable tea party that brought together Frances Burney, Sophie von La Roche, and Marie Elisabeth de La Fite in conversation about Stéphanie de Genlis, she excavates a complex community of European and British women authors. In chapters that incorporate history, network theory, and feminist literary history, she examines the century-and-a-half literary lineage connecting Madame de Maintenon to Mary Wollstonecraft, including Charlotte Lennox and Françoise de Graffigny and their radical responses to sexual violence. Neither simply a reaction to, nor collusion with, patriarchal and national literary forms but, rather, both, women's writing offered an invitation to group membership through a literary project of self-transformation. In so doing, argues Cheek, women's writing was the first modern literary category to capitalize transnationally on the virtue of identity, anticipating the global literary marketplace's segmentation of affinity-based reading publics, and continuing to define women's writing to this day.
Available for purchase here.