Classical Antiquity in Heavy Metal Music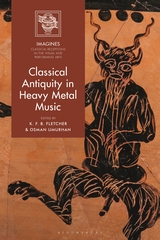 This book demonstrates the rich and varied ways in which heavy metal music draws on the ancient Greek and Roman world. Contributors examine bands from across the globe, including: Blind Guardian (Germany), Therion (Sweden), Celtic Frost, Eluveitie (Switzerland), Ex Deo (Canada/Italy), Heimdall, Stormlord, Ade (Italy), Kawir (Greece), Theatre of Tragedy (Norway), Iron Maiden, Bal-Sagoth (UK), and Nile (US). These and other bands are shown to draw inspiration from Classical literature and mythology such as the
Homeric Hymns
, Vergil's
Aeneid
, and Caesar's
Gallic Wars
, historical figures from Rome and ancient Egypt, and even pagan and occult aspects of antiquity.
These bands' engagements with Classical antiquity also speak to contemporary issues of nationalism, identity, sexuality, gender, and globalization. The contributors show how the genre of heavy metal brings its own perspectives to Classical reception, and demonstrate that this music-often dismissed as lowbrow-engages in sophisticated dialogue with ancient texts, myths, and historical figures. The authors reveal aspects of Classics' continued appeal while also arguing that the engagement with myth and history is a defining characteristic of heavy metal music, especially in countries that were once part of the Roman Empire.
Available for purchase here.