Mallaury Gauthier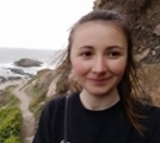 Email: mgauthier1@unm.edu

Office: 323A

 

Office Hours: M 2-3, W 12-1, and by appt.
Biography:
Mallaury graduated in English Literature,Linguistics and Civilisation and last year started a masters program at the Sorbonne-nouvelle University in French as a Foreign language. She paused this master in order to come here in Albuquerque to start a master in Comparative Literature and Cultural Studies. She's from a small village in Ardèche but lived in England, Ireland and USA in the past. She's interested in studying how the figure of the witches in socio-historico-political study and in contemporary cultural and aesthetic forms evolved throughout the centuries in the fields of feminism and eco-criticism. She likes hiking and climbing, and can't wait to explore New Mexico.