Christian Rhoads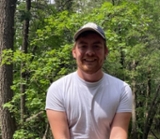 Email: crhoads@unm.edu

Office: 347A

 

Office Hours: M 10-11, W 11-12, and by appt.
Biography:
Christian Rhoads is a second year M.A. student in Classics. He graduated summa cum laude with his B.A. in Classics: Latin and Latin Teaching from the University of New Hampshire in spring of 2020. His academic interests include Hellenistic Greek poetry, perceptions of space and the senses, and the cultural theory of plants. His current research examines the political use of plant terminology in the Idylls of Theocritus (3rd c. BCE). Christian is also the president of the Foreign Languages and Literatures department Graduate Student Association and a steward for the Graduate Student Workers Union.